St Dawid"s Day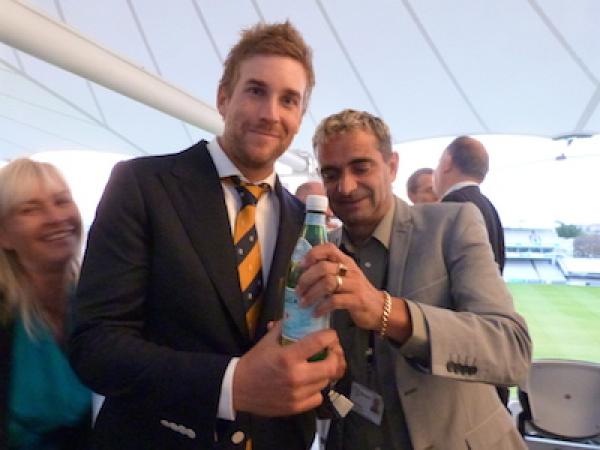 Another award on its way
By Dingy Bags
July 2 2019
Dingy Bags started off today with the option of watching his back garden grass grow or witnessing Middlesex desparate effort to gain some credit after two dire days. He is MTWD so here he is reporting from Derby of our superb rearguard action. Read on...
Our Teacher marking
The first two days:
Bowl consistently X
Take half chances X
Catch dollies X
Avoid no balls X
When you get an edge, don't overstep X
Keep a good over rate X
When you get a start, bat long X
I didn't exactly travel up in hope today but I did travel. I find Pattonair ground a nice place to watch cricket and Derby deserve credit for what they have done to the ground over recent times. The wicket still looked good as Finn stroked a beautiful four in the second over of the day behind square. Later there was an elegant on drive but it was only a matter of time before he was bowled all over the place by Beaker. From here, Max and Mala dug in, not without alarms but with a few nice shots mixed in. Ten minutes before lunch, the flying Fynn came. First ball to Max lifted sharply and he nicked it behind. 205 – 5.
The new ball produced a wicket about 40 minutes after lunch when Critchers took a brilliant one handed slip catch to dismiss George Scott, who batted well and briskly for his 23. After our efforts at catching, it was inevitable Derby would take some streamers. Simmo arrived and was quickly into his stride, including a powerful flick off his legs not far off a six. Mala then went to a well-deserved ton, his third of the championship, with an extra cover drive that was all class. Derby used no less than six seamers, through the afternoon, which is one reason they slipped to – 3, with the captain apparently reluctant to bowl the quickest, Beaker. You could look at it that we had drawn the two sessions today, by tea taken at 319-6, just after 4.00. Mala (129) Simmo (30}, stand worth 69.
After tea, as the second new ball got older the seventh wicket pair continued to pick off their singles. There were a few plays and misses as the bounce sometimes became uneven but their was some idle speculation that we might declare if we saved the follow on. However, scoring was slow as, quite correctly, the players went carefully about their task. Indeed, Simmo having apparently raced into the twenties, batted at a strike rate of about 20 afterwards. Not for the first time, it had taken two days for us to start competing.
Simmo found some acceleration to go to a defiant 50 off 138 balls. He played some nice shots all round the wicket, including four 3s. It was that kind of innings but hugely useful to a struggling side. We then had a spate of short balls which established that Mala and Simmo both had their hooks in order but this period of play saw the skipper to his 150, from 302 deliveries. Derby brought on The Ploy as their eighth bowler (something resembling left arm orthodox) and the follow on was saved by a rasping drive from Simmo. So, we got through the day losing only three wickets one of them a night watchman. We comprehensively lost the first two days but we have won today. We are still bottom of the heap but at least we have not capitulated. It was not clear, leaving the ground this evening, where this game is going now. 436-6 at close.
View a Printer Friendly version of this Story.
St Dawid"s Day
Discussion started by Middlesex till we die , 02/07/2019 19:38
Middlesex till we die
02/07/2019 19:38
What do you think? You can have your say by posting below.
If you do not already have an account
Click here to Register
.
Edited 1 time(s). Last edit at 2019:07:04:17:38:25 by BarmierKev.
Excellent report, thanks Dingy. Better than watching grass grow, I imagine!



Edited 1 time(s). Last edit at 2019:07:03:09:56:53 by Fozzie.
WayOutWest
02/07/2019 22:02
For many of us it took an effort to even bother following via cricinfo/stream/radio this morning. Not only have you travelled up to Derby but you have produced an excellent report too. July Player of the Month for Dingy Bags!
BarmierKev
03/07/2019 09:26
A massive thanks to Dingy and in line for POM award. I'll certainly buy you a beer at MTS.

I was scheduled to report today, but really don't see it worthwhile making round trip for dead game, where I would probably be watching World Cup.


---

Barmy Kev
I'm only here for the tele
BeefyRoberts
03/07/2019 11:07
Got the day spot on.
At times it was hard watching,but,Mala and Simmo dug us out of a huge hole and the draw looks odds-on.
Agree with what Andy said about the ground,Derbyshire (they dont like being called Derby!) have got a good set up and a friendly welcome awaits all.
Was a breezy and somewhat nippy day,until half hour or so near end of play,when the sun appeared.
I did hunt down the nearby chippy,but,to be honest,I rather wish I didn't,soggy chips not that good,but the fish was ok!

Cheers for the report mate
Sorry, only registered users may post in this forum.