Alls Wells Ends Not Wells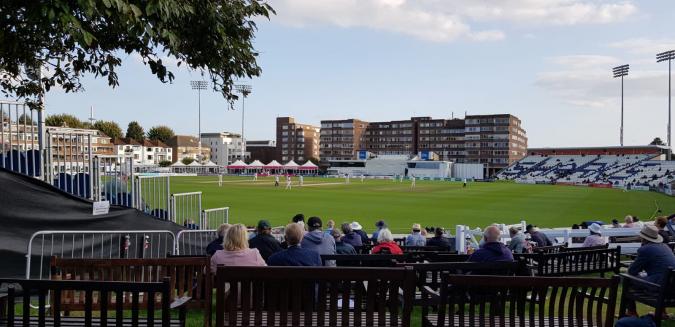 Tension building
By Beefy Roberts
August 20 2019
For those not following today's play Beefy provides a full report as it happens from his phone
Sunny day, smaller but still good crowd. Mind you, more coming in as each over finishes. Some people say County Cricket is fading. Is it? We are now 159-4 with both batsmen not taking chances.
Robbo edge and heads back to pavilion another Robinson wicket got 68 important runs.171-5.
Simmo reaches 50 off 71 balls and we slowly move towards getting Sussex to bat again. Harris on 27 off 51 balls, and we are 21 runs behind their 1st inns score.
Simmo lovely drive down Sea End for 4 and, Sussex will bat again.
Simmo is 79 no. Middlesex are 1-5. Beer leaves field half way through over with hand injury?
Simmo shouldered arms. Left the ball and bowled for 89. Robinson strikes again
A healthy lunch taken by me. Fish n chips for a fiver at local chippy and from the newly arrived ice cream van a cone for a rip off £4
Hoots of laughter from Shark Stand as a, bottle of champagne is opened, Cork goes onto the playing field and seagull swoops down and takes cork in beak flying away with it.
Toby is stumped given out by square leg umpire. He isn't impressed with decision and tapped top of pad..We were robbed there
Rabbit gone, caught behind for a duck. A pair from him.44 ahead it's looking grim. Where is the rain?
The curse of Robinson strikes again. Harris takes a swipe above head and caught behind, It's 299-9 and defeat is looming. Another 6 for Robinson, 14 in the game, He likes us!
With 101 the lead. Looking on bet365 Middlesex to win is just 9-1 now.
Robinson to Murts who sends ball back and ball hits umpire Debenham on ankle and, goes down to floor quickly. Middlesex physio runs to his aid and a large bandage is added to right ankle. Call off the game!
50 partnership between Murts and Finny. Lead of 121,crazy game of cricket!
Standing ovation from us, as Finny gets his maiden first class 50. The PA said maiden century of 58 balls.
Final wicket goes as Finny gone on 56.Sussex need 145 to win. Wonder what will happen? Robinson 14 wickets in match, Best return for Sussex since 1964.
First blood to us and Murts as Salt has stump flattened and 18-1.127 to win
VAR needed Murts to Haines, a sound and caught behind (?) Everyone went up, we went up but umpire's finger stayed down.
And now Finny joins in and bowls Haines for 11. They need 105 to win, we need 8 wickets
Murts grabs another, Finch has returned to the hutch. It's 44-3 and getting more interesting.
Murts to Carey, again a noise as whole team goes up for a wicket, Umpire remain unmoved.
With 101 to win, will the extra half hour be taken?
Harris first over cost 13 runs as Sussex need 77 to win. And.the dreaded red figure is on -2
Rabbit comes on at Sea End, first 2 balls are dispatched for 6,make that first 3 balls. Make that 4 sixes off the over. Time to start the car. Striling on for the over raste.
I leave with 9 needed and Wells /Carey seeing them safely home with over rate still -2
View a Printer Friendly version of this Story.
Alls Wells Ends Not Wells
Discussion started by Middlesex till we die , 20/08/2019 19:24
Middlesex till we die
20/08/2019 19:24
What do you think? You can have your say by posting below.
If you do not already have an account
Click here to Register
.
Edited 1 time(s). Last edit at 2019:08:23:08:44:55 by BarmierKev.
adelaide
20/08/2019 20:41
A maiden Middlesex first class 50 for Finn but he did get one for England in New Zealand.

I went to the bother of registering for the Sussex live feed (no charge) on Sunday but found I just couldn't bear to watch it for very long.

Odd match. Despite the first innings we would have been in it if the last three Sussex wickets had not doubled the score. Up to that point the difference was just one partnership.

I hope we did get the over rate sorted, though if Carey had carried on at 24 an over it probably would have made it worse (time lost getting the ball back) rather than better. Which would have rammed home the constant message - don't get into that situation because something may stop you getting it back.


Adelaide
BeefyRoberts
20/08/2019 20:54
The over rate finished level with Stirlo and Rabbit bowling.
Sussex do like playing us this year,and,although defeat today I must admit I do like Hove,its a lovely ground and still has a few deckchairs left...long may they stay.
Ebor Gooner
21/08/2019 00:31
Disappointing. And a recurring theme. A complete inability to make any sort of score in our first innings. This has been the case for two or three years. I've heard Stuart Laws interview - and he says there is talent in the dressing room - but the conversations are feeding negativity. Isn't that Laws job to deal with?

I don't think we will promoted this season now, and I can't see how that can be viewed as anything less than underachievement? Are the people in charge seeing progress? I'm not. It's only a few years since we won the 1st Division Championship. What's gone wrong, and more importantly, how can Middlesex put it right? We need to be in the 1st Division, and preferably challenging at the top. The question is, what needs to happen, for that to be achieved?
adelaide
21/08/2019 09:34
I am intrigued by Law's negative comments about negative comments. Are players slagging each other off (and meaning it, not the usual dressing room joshing)? Are players disagreeing about strategy? About decisions taken about whether to bat or bowl? About the captaincy (or management)? Are they saying "we're doomed", a sort of cricketing Cassandra?

The converse of course would be if everyone felt obliged to offer a positive opinion, a sort of cricketing Pollyanna. Nobody believes what anybody is saying but hey, nobody can accuse of us of being negative.

There is a difference between negativity and constructive criticism but if Law actually means negative comments in the dressing room during the match, then that probably isn't the time or place.

Adelaide
chunkyinargyll
21/08/2019 09:52
I listened to the interview again, and he seems to say something like 'negative comments from those waiting to bat' which could be interpreted as the lower middle order slagging of the efforts of their so called 'betters', or it could just mean that having seen others fail those that were still to follow knew we were heading for defeat and so got in to a 'the whole world is against us' negative mindset, rather than criticising each other.

I wonder if the obvious 'Why did we want to bat first' comment was made.
Sorry, only registered users may post in this forum.