'The Nearly Men' Lord's Final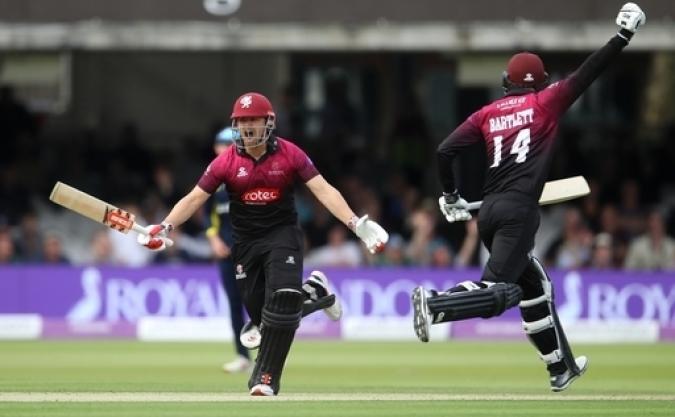 By Grockle et al
May 25 2019
Neither Farmer or myself are there. Farmer is at a much more important event and I'm in Hamilton watching this on SKY where we have already been dubbed the 'nearly men' by Mark Butcher within seconds of switching on. It is definitely the media view that we are second favourites today. I'm happy with that view. Hampshire win the toss and will bat.
LORD's. The Final. Hampshire v Somerset. No changes from the side that took Notts down in the semi away from home. Hampshire win the toss and look to put a score on the board.
THE Team?
Banton, Ali, Trego, Hildreth, Abell, Gregory, van der Merwe, Overton C, Overton J, Davey, Greonewald
I must admit I like to see the side that got a team to the Final playing in the Final, the first time I went to one it was the Cider Final and Steffan Jones who played in most of the games leading up to Lord's was left out in the Final and Graham Rose came back in after injury. It didn't feel right to be honest.
So Cove and Josh Davey start for us against Donald and Alsop. It is nervous but they are tight and Hampshire don't reach the boundary until the middle of the third. Good solid infielding from us as a unit and slightly reticent batting from the Hampshire openers as they are missing James Vince. In the 4th over we get first blood as Josh gets Donald driving to RvdM and it is 16 for 1. Josh seems to be favouring one side sllightly and could be just tight or something might have gone, the physio checks him and he stays on and bowling so he may play through it.
30 for 1 after 7 and our front two are looking to work hard and Alsop gives a chance to James Hildreth who drops it.... aaaarrrgghhh. But next ball the footwork is right and Hilda takes the batsmen second time. 2 wickets to Josh, 2 chances to James and Hampshire are 30 for 2. Seems Craig is 'not even close' to the England side at the moment and the patronising goes on. But we are bowling good lines and fielding very well in the first 10 overs. Good boundary fielding from both Lewis and Tom.
43 for 2 after 10 and Lewis is into the attack for the eleventh from the Nursery End and has Northeast playing at his first. It looks to be keeping a little low every now and again. Josh is really in the zone and bowling a beautiful line and length from the outside coming in. Hampshire are struggling to get the ball off the mown part of the wicket. We have the first reference to the fact that this is the LAST Lord's 50 over final for ever or maybe a considerable time. Butcher comments on the first one in 1963, references the scores in a 65 over event and then links that to why cricket is seen as not 'exciting' enough as if anyone referenceing that is looking at scoring rates in the 1960's!!!
And with that diversion Lewis Gregory bowls Weatherly with the score on 50 - oh yes the 'handsome one' does the job. Now we face the important pair; Sam Northeast and Rilee Rossouw who has been a big thorn in our side before. This is the partnership that may decide the home of the trophy, if these two get away we could be looking at something very significant, if not we will feel we are into the soft underbelly of Hants... though there is Gareth Berg!!
As we move through the teens in terms of overs the Hampshire men start to consolidate as Josh finishes his excellent first spell with 2 for 28 and we introduce Jove for the 18th. It is weird that this man and our 12th man Dom Bess were both in Championship action last week for other counties - Northants and Yorkshire respectively. Northeast gets a fortuitous edge for 4 as Jamie starts well and we finsih the 18th with Hampshire on 86 for 3.
19.4 Rossouw mistakes a ball coming in, looks to leave it, catches an inside edge and is bowled by Jamie!! Vital wicket and we have them at 4 down with less than 100 on the board. In comes Gareth Berg before a long tail. Tom puts in a slip to attack the new man and Overton is roaring in but needs to keep composure as he moves up to 89 miles an hour.
99 for 4 at 20 overs - we would have taken that at the start of this game I believe. RvdM takes an over at 22 to change ends for Jove and Hampshire go to 3 figures as we move into the 20's. There is a lot of presssure on the Hampshire captain now as his side are into their middle order and Liam Dawson is not in the side at the back end though Wood is no slouuch with the bat. Bumble seems to think that Jove 'had' pace...... after seeing him play against Lancashire last week. We shall see.
Roelof continues to twirl in the 24th from the Pavilion End and nearly has Berg stumped and he picks the wrong length of ball. By the 28th Hampshire have been held to 118 as both Somerset bowlers keep the press on. Northeast has 40 to his name and Berg has 9. They are both there and looking to establish a base from which to accelerate and we have to remember that the bowling unit of the opposition is not to be taken lightly. The commentators are looking at a 250 score, which would definitely be possible with these two staying at the crease and a contribution from the tail. Somerset would like one of these out before 30 overs and definitely not having this pair together as Hants move inbto the last 10. Presently Somerset have produced 100 non scoring balls in the first 28 overs and that is not bad.
The great thing about the 50 over game is that there is time in this format to reset and re-evaluate a position in the mid over period and this is definitely what Northeast and the dressing room are doing given the position they find themselves in. Cove replaces his brother for the 29th and at 129 for 4, given the idea that you double the 30 over score, 250 seems a good prediction of the score we will have to chase. RvdM is halfway through his spell and has only leaked 15 runs presently so he is doing his job.
Lewis looks to change the game as he returns for the 33rd but Berg and Northeast are looking well set, though Hampshire still don't have 150 (145 for 4 at 32.3 overs) and Somerset must feel they are in a decent position. There are worries about Gregory and whether he has pulled something as he is grimacing (I think he just does that) and has lost a little pace. However, the infielding of the side is keepiing the press on here with some excellent stops and pickups show how much we want this.
Jamie takes the next oneas RvdM takes a breather. He puts a short one in that tempts Berg to pull /hook him. It gets to the batsman too fast and he top edges the ball to be picked up by George Bartlett in the 'not so deep'. Just what we needed at 145 for 5 with Berg gone for 27. In comes Fuller and jove looks to work him over as well. Anyone for a '...wicket maiden in the 34th'?
Tom Abell brings himself on in the 37th as Sam Northeast goes past a dogged and captaiin's half century. Captain against captain and TB gets the breakthrough as he gets his opposite number playing on for 56 and Hampshire are at 164 for 6. In comes Chris Wood as Jamie looks to put the tail to the sword. Shame Liam Dawson is not here it seems. I think it is a bigger shame that James Vince is not in the batting side. If Hampshire were relying on Dawson then they would have been in trouble anyway. Northeast playiing across the ball and snicked it into the wicket.
We go to 165 for 7 as Jamie bangs the ball into Chris Wood, rushes him and he top edges to Bartlett who takes his time and the catch. 7.3 overs 3 for 24 for Jamie Overton and Kyle Abbot looks to push this on with a boundary off his first delivery. He will bat is he can and he can score hard but we are on top in this half of this game. A lot of talk about our 6 and a half footer using the height to dig the ball in and get it to rise into the batsman. Great spell from the big man. so pleased to see it happening on TV.
A ball before the last 10 start, we push the batsmen to complete a short run as a direct hit takes the stumps out with Fuller just in. They take 179 for 7 into the last phase of their innings and we are still pressing with sharp infield fielding. Then Tom Abell is back in the mix as he bowls Abbot playing down the wrong line and losing his off stump. 180 for 8!! The captain? 5 overs 2 for 11!! Not too shabby.
193 for 8 with line and length and bowling at the stumps.... amazing how often that works isn't it. Good to see Tom Banton standing up to Tom Abell keeping the batsmen honest and keeping them below 200 with 5 overs to go. RvdM returns, showing some confidence from the Somerset boys. He gets his first one to turn to everyone's surprise including the batsmen who scramble their 200th run from it.
Craig is reintroduced for the 46th and goes close with ball 1 to Mason Crane. Both Overton's have used their height well to get problematic bounce. It is also significant that there have been no sixes in this innings at all before this point and swinging at the moment is not a real option with only 2 wickets left. 3 overs to go and 208 for 8 on a pitch that suggests a little more thn this total. However, we have to remember that we can collapse with the best of them and it wouldn't be the first time. Irrespective of where this ends up at 50 overs, the bowlers have most certainly done their job in the first half of this game although it would be good to see that they keep the pressure on until the very end of the Hampshire innings rather than thinking the job is done with 18 balls to go and letting them get very near to 250. Crane is looking at that as his target so we need to tie him down wherever possible. 221 for 8 with 12 balls to go so the 250 is a possible still. These 2 have already equalled the 9th wicket partnership record with 44 off 41 balls against Somerset.
We have the first mention of the Somerset 'Golden 3' of the 80's from the commentary team in the 49th over so Somerset must have been doing well to keep their concentration on the game actuallly going on now. Hampshire have taken 21 off the last 2 overs as Jamie Overton takes the final over. Josh Davey has not come back to bowl so he must have had a niggle at the start of the game as was noticed. The 50 partnership comes off the first of the last over. These two tailenders have done their job well. We get the first six of the innings from James Fuller!! A second one takes him past 50 as he slaps a cutter to the off side.
A real chance for the boyz... now they need to put it away. I apologise if the report has a gap but I am off down the pub because my streaming service is startiing to lag so I will do the second half from Front Street in Hamilton oon a sunny Bermudian day. Hampshire have 244 for 8 with a partnership of 64 frm the last two guys. I think this is on, but ask me again after 10 overs. Have a nice interval. I'm off for a walk and breakfast.
THE REPLY
Abbot and Edwards start against Banton and Ali with Tom opening with a confident boundary. Fidel is very loose at the start and the young Somerset batsman takes hinm for 14 off three consecutive deloveries and only fails to make it four by some good boundary fielding. Somerset fly to 22 off ther first 3 overs. Then both batsmen start to go after Abbot as well as they move to 42 off ther first 5 overs which prompts a picture of Tractor on SKY for some reason. I am in the Irish pub on Hamilton's Front Street where the staff have set up the TV but without audio. A couple of Scots are not happy as they have to move to watch the Scottish Cup Final but they leave me to it. Both openers are moving along and we are one run from 50 by the 6th. Wood is introduced for the 7th and the 50 is an almost imeediate result.
By the end of the 14th the opening Somerset are so settled that Mason Crane is introduced which could be danger time for Banton who is on 48 at this time. It doesn't seem to bother him though as he attempts to sweep his fist delivery and succeeds witht he third ball and a run a ball half century in impressive manner. Berg comes on for the 16th as we pass the 15th on 91. It does not slow the pair down as Banton brings out the reverse sweep and we pass 100 3 balls intothe over.
Hampshire are looking for something to turn the tide and they move Fidel to the other end and bring him back on. He in turn is wound up by his treatement in his first spell and comes in like a train with almost instant effect as he cuts Tom in two and gets an inside edge on the way through. 69 off 67 and an excellent start for the county. In comes Pete Trego who is immediately bounced by Fidel and words are exchanged between the two. The move slows down the run rate and Somerset have only moved on to 117 by the 20th. Fidel then rushes Ali and he pops one up at 121. In his second spell, Edwards has gone for 4 while snatching 2 wickets.re
Peter and James Hildreth find themselves together and have soon moved the score on to needing 100 off 144 balls while both batsmen have 14. No one really looks like bothering the barsmen except Edwards and we can afford to close up agaiinst him because we have the wickets and the balls to do it. We've moved pn to 170 before Trigger departs after skying one and being caught by Wood off Fuller for 29. Ton Abell replaces him needing 75 off 111 qnd when he goes chopping to a fielder as Fidel gets fired up again, the total needed is a run every two balls 42 from 83. It seems pretty much done and dusted but Somrset fans can't possibly accept that after so long.
Nevertheless James is Majestic and all George has to do is get him oon strike and run when he does. The man reaches 50 at 221 and with nearly 9 overs left and by 6 wickets, Somerset go to their first cup win in 18 years with a Hildreth boundary that splits the field.
Glorious. Glorious Glorious. We were hardly in danger, the bowling was excellent. Jamie Overton gets the Man of the Match award for his significant 3 wickets at the most opportune of times. The side are besides themselves and provide a brilliant version of 'Blackbird' to the crowd after the cup is awarded. This was a very solid and mature victory and it bodes well for the future as we finally have learned to 'get over the line'
SOMERSET ARE Royal London One Day Cup Champions and they damn well deserve it.